Long time no blog. Oops! I've been busy, though.
Lawyer Mom and I went to the library last night. She returned some trashy political thrillers in exchange for new trashy political thrillers; I got my expired library card sorted and grabbed two more books from the TIME Top 100 list. I finished
The Spy Who Came in From the Cold
in one sitting, something I haven't accomplished since I read
The Painted Bird
right around Christmas.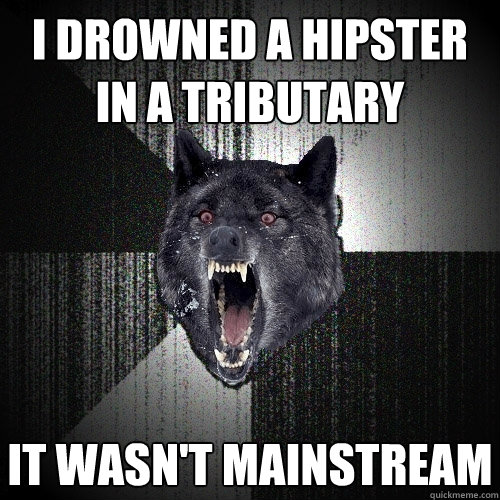 The Spy...
was okay, I guess. It was (surprise!) a spy novel, a genre I don't normally read. I didn't find it any kind of outstanding or insightful piece of literature; its presence on the list confuses me. The more I work my way through the TIME Top 100 Novels list, the more books I find that seem to be included not because they're
good
but because they were just really popular. Insert an exasperated hipster sigh about "the mainstream" here.
(Slow down there, Hipsterina!)
This is another book that seems dated in a bad way, like
Brideshead Revisited.
East-West German political intrigue is just not interesting or relevant to people who didn't grow up under the specter of Communism. Wikipedia assures me that
The Spy...
made a great splash at the time of publication, as an intense realist counterpoint to the romantic jet-setting adventures of James Bond and the like, but now it just reads like so many of Lawyer Mom's trashy political thriller novels that to put it in the same category as
Infinite Jest
is a bit embarrassing.
Le Carré's writing is competent in that it doesn't get in the way of his story, but it's rather pedestrian at the end of the day. Nor does he have any great, heart-breaking characters, nuanced insights into life or "the human condition," or even
truly
masterful plotting. (Uncomfortably anti-Semitic as it is,
Appointment in Samarra
takes the plot cake so far on the list.) Nor does it touch on anything really universal or timeless or relevant, like race relations or gender roles.
I don't know what the term for a parlor scene is in political thrillers, but the one here felt forced and awkward, even though I appreciated the plot clarity it provided. On the downside, the clarity revealed that the entire story hinges on a pretty ridiculous
deus ex machina
that reminded me a lot of
Oldboy,
except in
Oldboy
it was actually plausible.
Ultimately,
The Spy Who Came in From the Cold
is just an inexplicably mediocre find on the list that should have never been included in the first place.
This brings me to 67 out of the 100 TIME Top Novels list. That means I'm at the two-thirds mark! The whole list is after the jump:
1. The Adventures of Augie March, Saul Bellow
2. All the King's Men, Robert Penn Warren
3. American Pastoral, Philip Roth
4. An American Tragedy, Theodore Dreiser
5. Animal Farm, George Orwell
6. Appointment in Samarra, John O'Hara
7. Are You There God? It's Me, Margaret, Judy Blume
8. The Assistant, Bernard Malamud
9. At Swim-Two-Birds, Flann O'Brien
10. Atonement, Ian McEwan
11. Beloved, Toni Morrison
12. The Berlin Stories, Christopher Isherwood
13. The Big Sleep, Raymond Chandler
14. The Handmaid's Tale, Margaret Atwood
15. Blood Meridian, Cormac McCarthy
16. Brideshead Revisited, Evelyn Waugh
17. The Bridge of San Luis Rey, Thornton Wilder
18. Call It Sleep, Henry Roth
19. Catch-22, Joseph Heller
20. The Catcher in the Rye, J.D. Salinger
16 / 20
21. A Clockwork Orange, Anthony Burgess
22. The Confessions of Nat Turner, William Styron
23. The Corrections, Jonathan Franzen
24. The Crying of Lot 49, Thomas Pynchon
25. Cry, the Beloved Country, Alan Patton
26. The Day of the Locust, Nathanael West
27. Death Comes for the Archbishop, Willa Cather
28. A Death in the Family, James Agee
29. The Death of the Heart, Elizabeth Bowen
30. Deliverance, James Dickey
31. Dog Soldiers, Robert Stone
32. Falconer, John Cheever
33. The French Lieutenant's Woman, John Fowles
34. Martha Quest, Doris Lessing
35. Go Tell it on the Mountain, James Baldwin
36. The Gravedigger's Daughter, Joyce Carol Oates
37. The Grapes of Wrath, John Steinbeck
38. Please Look After Mother, Shin Kyung-sook
39. The Great Gatsby, F. Scott Fitzgerald
40. The Jungle, Upton Sinclair
9 / 20
41. The Heart Is A Lonely Hunter, Carson McCullers
42. Native Speaker, Lee Chang-rae
43. The Namesake, Jhumpa Lahiri
44. Housekeeping, Marilynne Robinson
45. The Poisonwood Bible, Barbara Kingsolver
46. I, Claudius, Robert Graves
47. Infinite Jest, David Foster Wallace
48. Invisible Man, Ralph Ellison
49. Light in August, William Faulkner
50. The Lion, The Witch and the Wardrobe, C.S. Lewis
51. Lolita, Vladimir Nabokov
52. Lord of the Flies, William Golding
53. The Lord of the Rings, J.R.R. Tolkien
54. Kokoro, Soseki Natsumi
55. Lucky Jim, Kingsley Amis
56. The Man Who Loved Children, Christina Stead
57. Midnight's Children, Salman Rushdie
58. Money, Martin Amis
59. The Moviegoer, Walker Percy
60. Mrs. Dalloway, Virginia Woolf
16 / 20
61. Naked Lunch, William Burroughs
62. Name of the Rose, Umberto Eco
63. Native Son, Richard Wright
64. Neuromancer, William Gibson
65. Never Let Me Go, Kazuo Ishiguro
66. 1984, George Orwell
67. On the Road, Jack Kerouac
68. One Flew Over the Cuckoo's Nest, Ken Kesey
69. The Painted Bird, Jerzy Kosinski
70. The Buddha of Suburbia, Hanif Kureishi
71. A Passage to India, E.M. Forster
72. Play It As It Lays, Joan Didion
73. Farewell to Manzanar, Jeanne Wakatsuki Houston
74. Kafka on the Shore, Haruki Murakami
75. The Prime of Miss Jean Brodie, Muriel Spark
76. Rabbit, Run, John Updike
77. Ragtime, E.L. Doctorow
78. The Recognitions, William Gaddis
79. Red Harvest, Dashiell Hammett
80. Revolutionary Road, Richard Yates
11 / 20
81. The Sheltering Sky, Paul Bowles
82. Slaughterhouse-Five, Kurt Vonnegut
83. Snow Crash, Neal Stephenson
84. The Sot-Weed Factor, John Barth
85. The Good Earth, Pearl S. Buck
86. Your Republic is Calling You, Kim Young-ha
87. The Spy Who Came in From the Cold, John le Carre
88. The Sun Also Rises, Ernest Hemingway
89. Their Eyes Were Watching God, Zora Neale Hurston
90. Things Fall Apart, Chinua Achebe
91. To Kill a Mockingbird, Harper Lee
92. Sons and Lovers, D. H. Lawrence
93. Tropic of Cancer, Henry Miller
94. Ubik, Philip K. Dick
95. Under the Net, Iris Murdoch
96. Villa Incognito, Tom Robbins
97. Watchmen, Alan Moore & Dave Gibbons
98. White Noise, Don DeLillo
99. White Teeth, Zadie Smith
100. Wide Sargasso Sea, Jean Rhys
15 / 20
67 / 100