This week we're taking a break from mathematics and delving into biology with these chainmaille bracelets. This spiral weave, called This Is Not Food, resembles the double helix structure of a piece of DNA.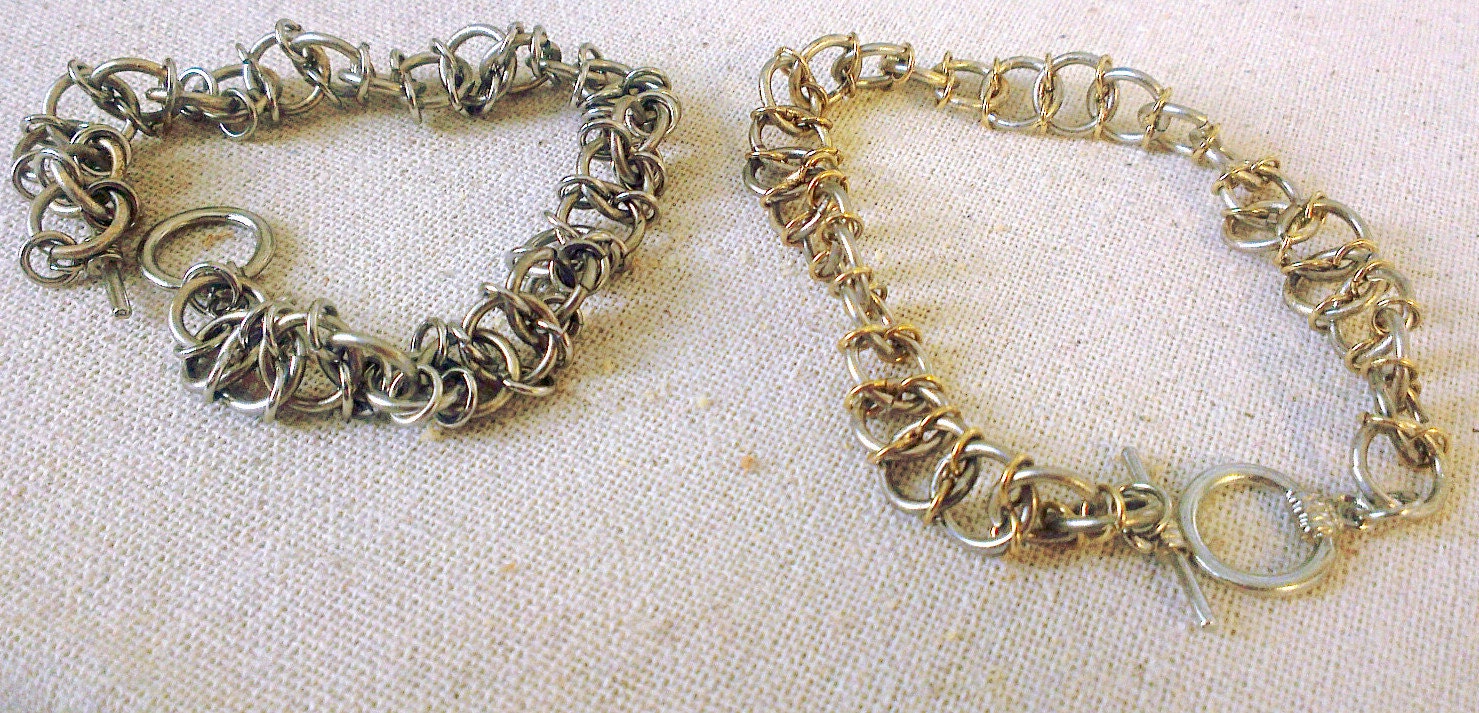 DNA maille bracelets
I love beads, I really do, but I also recognize that diversification is important. Chainmaille has piqued my interest for some time now (probably because of my partners in craft is a seasoned maille expert), but I couldn't figure out a way to make it work for me until I saw a 4-in-1 spiral weave.
An example of a 4-in-1 spiral weave from Keitilen on DevArt
The only problem with this weave is that you need to "lock" it in place, otherwise it twists into Jens Pind Linkage, which is (IMO) kind of ugly. There are a couple ways to do it: loop the twist onto itself, add small reinforcing rings to lock the weave, and (possibly, I'm not a maille expert yet so jury is still out on this) work with rings that have a very specific aspect ratio (AR) (which is to say, rings that have a specific relationship between the thickness of the metal and the diameter of their shape).
I wanted to work with the jump rings I already had, and I didn't want to add the reinforcements I saw because that often ruined the double helix shape. Eventually I found a weave called This Is Not Food, which still had a clean double helix outline but also naturally kept to a spiral form. If anything, it's even more
more
appropriate for DNA jewelry because you can think of the pairs of jump rings that keep the shape as DNA base pairs.
I did manage to figure out a way to do a regular 4-in-1 spiral bracelet. It came out really well, and is now sitting in the gift shop at the
Da Vinci Center
in Allentown, PA!
I got to get a picture of it before I had to sell him. This reminds me: I need to order more jump rings!
Otherwise, you can visit my earlier
DNA projects
in the
Kokoba Etsy shop
, as always. And cheer yourself up this Monday by browsing some spectacular
#SciArt on Twitter
!