I haven't made any jewelry in ages. We (I) have been lax in getting a larger table for the kitchen, where I would have room both for Regan (my laptop) and for beadwork. It's been long enough now that I am really itching to to string up some new things. Browsing Pinterest for design inspiration and color schemes, I find myself drawn towards the "boho" and Southwestern: earthy neutrals with bright jewel tones, chunky cuffs, layers of strands....sharing here is the next best thing to sitting down and working out my own stuff.
Truth be told, I'm also desperate to branch into a new look and style, jewelry-wise. Not in terms of my own personal style, but what I make. At the edge of my brain there's the realization that no one's really combining these styles with the techniques I use. Something about these styles and concepts feels like a next step or momentous occasion. Is there a market for math versions of the following? Who knows?
I love the colors, but especially I love the random (pseudorandom?) chunks of citrine in there as a complement. The natural, earthy effect is exactly what I strive for in some of my pieces, but I don't really achieve it to this degree. The large beads and big chunks are perfect for working with physical constants, since I only have a handful of numbers to work with.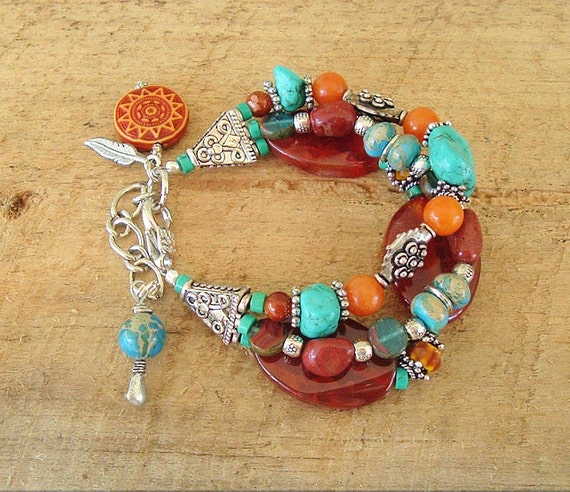 The colors. The colors! Turquoise has been all over Pinterest lately, or at least it was the last time I was seriously ODing on pins. The combination with bright oranges and deep reds is always so stunning. I also love the chunky multistrand look in bracelets. The variety in beads is great, too: there are so many, but yet they all thematically work together. Variety is an area I know I need to start working in, as an artist ("artist"), but done wrong it can just be distracting chaos. Reminders like this about how to do it right are important. (Note how almost every strand alternates a gemstone bead with a silver bead or spacer. I think that's part of this bracelet's secret.)
Again with the variety and controlled chaos. There's so much going on there and yet they all work together. I love the jewel tone colors in this one, as well as the fascinator/dangle thing going on at the end.The length and the multiple strands of this one would be perfect for irrationals; I think truncating them too early (like I do for single strand necklaces and bracelets) takes away from some of the beauty. Being able to stand back from a piece and see the whole (well, "whole") number, or multiple parts of it working together is neat, and probably why I like my memory wire cuff bracelets the best. It's like collage work, but with beads.
Seen any good jewelry lately?