Or, rather,
Kvinnliga filosofer från medeltid till upplysning
, but for the sake of my English-speaking audience I thought I'd give the translated title.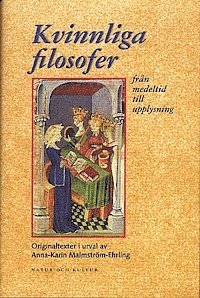 I borrowed this paperback from JV's mother for Swedish practice and also because the subject interests me. Let me tell you how many women you learn about in a survey of Ancient or Modern thought: none. Even the Contemporary class I took—taught by a self-identified feminist professor—was heavy on the dudes. No Mary Midgley or Simone de Beauvoir for us, though we did read Catherine Elgin's
Considered Judgment.
Anyway, there doesn't seem to be a translation of this book in English and my Swedish isn't advanced enough yet to comment on the style of Malmström-Ehrling's writing, so in lieu of a proper review, I'm leaving a list of all of the thinkers Malmström-Ehrling has collected into this survey of women's Modern philosophy:
Hildegard of Bingen
Christine de Pizan
Marie de Gournay
Anne Conway
Catharine Trotter Cockburn
Catharine Macaulay Graham
Mary Wollstonecraft
The book has a general introduction by Malmström-Ehrling, then gets to the meat of things. Each woman has her own chapter, with a short biography, a general overview of her philosophy, and then selections from her most important works. I'm embarrassed to say that, aside from Mary Wollstonecraft, I had never heard of any of these women. Hopefully I'll get a lot more out of this besides Swedish practice!