Let's talk about children's classics! Did you read any classic works as a child? What were your favorites? If not, have you or will you try any classic children's literature in the future? (We're aware children often read at an adult level. Please feel free to share adult OR children's classics that you treasured in childhood OR children's works that you've recently fallen for.)
Lawyer Mom jokes that I "came out of the womb reading." And while I was a gifted kid and an advanced reader, I never considered myself above children's literature. Mostly because I didn't really think of anything as being "for kids" as opposed to "for adults." I read whatever I could get my hands on. There are a whole host of books that I've read and forgotten, but there are still some that I love even today.
1. The Chronicles of Narnia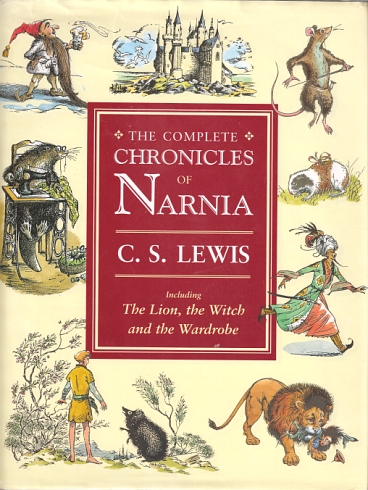 I remember getting a copy of The Lion, the Witch, and the Wardrobe from a bookfair as a kid. I don't know how we didn't already own the series, since Lawyer Mom is a big fan of C. S. Lewis, but there you have it. In any case, I got the rest of the books shortly thereafter and devoured them all. The world-building, the characters, and the magic absolutely entranced me.
My only gripe was that I was disappointed with The Final Battle but then again, isn't everyone? Even without fully comprehending what Lewis was saying about Susan Pevensie and her belief as opposed to the rest of her siblings, it felt like a weak, skim milk version of the good stuff that had come before. And then what I realized what was really going on with Susan, I liked it even less.
That doesn't diminish my love of the rest of the books. They are a permanent part of my library.
2. The Phantom Tollbooth
I can't remember if I asked for this book or received it from a particularly insightful adult, but I know that I first read my own copy in the third grade (probably the summer before), and read it so often that the paperback cover is nearly off now. I wrote a book report on it, complete with a cover of traced art that I was inordinately proud of.
There were a few jokes here and there that I don't think I understand the first time I read it, but there were many that I did, like the feast of eating your words or jumping to conclusions or being stuck in the doldrums. I had never, even when I was little, cared for cartoonish slapstick or gross-out humor. The Phantom Tollbooth is the perfect, Platonic ideal of the kinds of things I found especially funny when I was small. More importantly, it is a children's book that does not talk down to its readers. I was also very aware of being condescended to and very resistant to that idea; The Phantom Tollbooth, I could tell, was not a book that thought I was stupid.
3. The Secret Garden
This is another paperback that is basically falling apart. I also loved Burnett's
A Little Princess
but it's
The Secret Garden
that is really timeless for me. I always thought the rags to riches end of
A Little Princess
was a bit too contrived, even as a kid; maybe the same could be said for Colin's "miraculous" recovery in
The Secret Garden
but as Mary quite rightly points out, he was never
really
that sick to begin with.
I remember being SO EXCITED about watching the movie in class (in sixth grade, I think) but then getting very annoyed that they seemed to have added some kind of dopey love stuff in it, with Mary and Dickon, that was never in the book. I also remember the first time I saw the musical and got quite annoyed that they added a romance, this time the unrequited love of Dr. Craven, that was not in the books.
4. The Dark is Rising
One of the most underrated YA fantasy series of all time? Yes, quite possibly. And, like
The Secret Garden
, victim of an inferior movie reinterpretation.
I don't even know what else I can say about this series, except that it's (obviously) one of my favorites and even rereading it as an adult (which I've done a few times) is magical.
5. Harriet the Spy
Yet
another
bad movie adaptation. Unlike
The Secret Garden
, which I didn't see until it was on video, I saw
Harriet the Spy
in theaters. I'm pretty sure it was for a birthday, and I went with Lawyer Mom (and maybe two neighbor girls? or maybe I invited them but they didn't go so it was only me and Lawyer Mom?) and I was so excited.
And then so disappointed. So much had been left out of the script, and other stuff even changed. There was bitter resentment in my 10-year-old breast, and it never really lifted. I knew, then, that trusting the movies with your favorite books was risky business.
6. Roald Dahl anything
Despite all the "yourfaveisproblematic" issues with Dahl, I can't deny that I loved him as a kid. Any list of childhood classics would, for me, be incomplete without his name. I would borrow his books from a neighbor kid at the bottom of the hill whom I otherwise loathed with every fiber of my being—that's how much I loved Dahl. I have no idea why I didn't have any of my own copies of his books, or why I didn't ask for any. To date I think the only Dahl novel I own is
Danny the Champion of the World,
and that one isn't even my favorite. That award goes to
Matilda
. I have to admit, thanks to that book I hoped for crazy telekinetic powers. I related a lot to Matilda and figured if being smart gave HER powers,
I
would get some too! Nope.
It goes without saying that
Matilda
is another member of the "favorite books that got terrible film adaptations" club.
Oh, there are so many more, I could go on for ages.
Cheaper by the Dozen
,
Little House on the Prairie
,
The Wind in the Willows, Anne of Green Gables
...but I think I need to stop myself here.
I know YA has become the hot new thing these days, but I've been avoiding that train, so there's nothing
recent
I've been into, save
Throne of Glass
. I'm sure that will become a beloved childhood read for lots of people; I just think I'm past that impressionable childhood + teen years age where the things you love you REALLY love and shape your personality and tastes forever. I read all of the books on this list before the age of 10 so they're forever part of my childhood.
What are your favorite children's classics?
You can see other responses at
the Classics Club's December meme post
!