Yes, more pi earrings! This time in
peridot
and carnelian so pale I wonder if I should just call it quartz. I haven't forgotten about you, pierced-ear people! (Or
August babies
!)
When I was in the US last summer, one of my first purchases was a new digital camera. Love to my old camera, which was a Christmas present in...2004? 2005?...and has been a loyal companion on trips to Korea, China, Indonesia, Costa Rica, Sweden, and Finland, but it was finally starting to show its age. The battery life on it was nonexistent, its controls showing a little mechanical fuckery, and the LCD* screen was small and not at a really usable resolution for making sure that my jewelry images were in focus.
My plan was to buy a camera in the US (cheaper than buying in Sweden) and then use it for the duration of my trip. That didn't quite pan out, as my SD card was back home and the model I chose had zero internal memory, but I still got the new camera I needed. After taking it out to play with it for a little while, and charging the battery, I packed it in its box and put it in my bag. The rest of the trip was documented with the camera on my burner smartphone.
When I got back to Sweden and recovered from the jet lag, I sat down to TAKE PICTURES OF ALL OF THE JEWELRY. And I got a lot of pictures! Way better than I was getting with my phone camera, and way easier to use than my previous digital camera. (The fact that, despite their smart phone crappiness, my photos were still moving merchandise at about my regular rate made the whole NEW CAMERA thing less urgent.)
As you can imagine, the battery eventually died. I cheerfully dug out the box and took out the charger...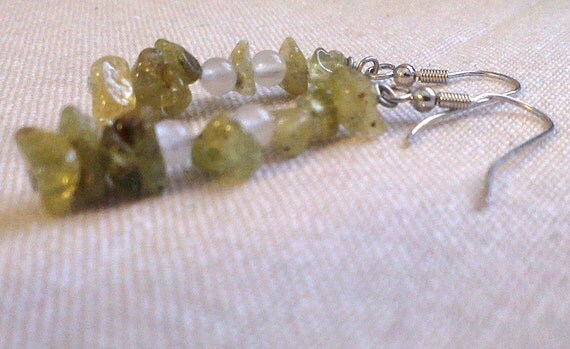 and the charger I had was definitely not for my battery.
What????
I had charged the battery (since it was pretty much drained right out of the box) in the US, so I knew that I had a proper charger in my possession. But this was not it.
I had stayed with a couple of friends in LA, all of them artsy types and friends with artsy types. I asked if they or any roommates were missing a Canon charger—probably I had packed the wrong one by mistake. Did they now have one that didn't fit their battery?
Nope.
So I said, NUTS TO THAT! and decided that I could put off buying a new charger some point later, maybe for my birthday or something like it. Back to crappy smartphone pictures it was.
All of that happened basically last July. Fast forward to now, where I am getting my ducks in a row for another trip back to the US. This time, I'll be back in my hometown and with access to a car. As I'm the kind of person who starts getting ready for a trip six months (!!) in advance, I thought it would be good to make sure I knew where my driver's license was, and to make sure it doesn't expire this year. (It does. Nothing like spending your vacation at the DMV!)
This is relevant because I tore through all of my luggage looking for my license (spoiler alert: I found it, no worries) and in the furthest corner of my little super-secure "passport and shit" pocket was...another Canon charger.
Not boxed up with the camera and the instruction manual. Not even in the same pocket. Not even in a very accessible or often-used pocket. And yes, of course, this charger was the one I was missing. I immediately put the dead battery in to charge and celebrated by re-snapping some of the worst pictures in the shop, and also this pair of earrings, which apparently I hadn't listed yet?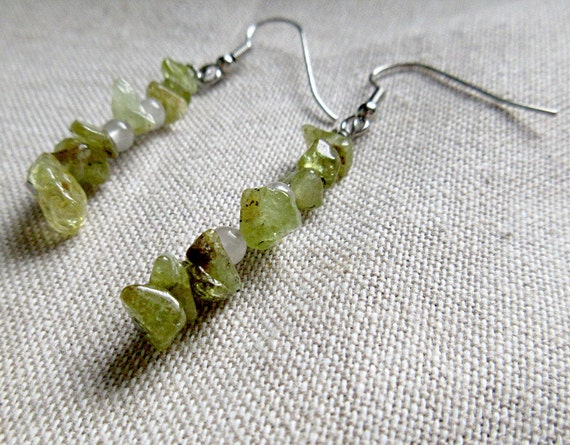 These are what I think is the last in a series of stash-busting earrings. Earrings are great little projects when you only have a handful of beads left, and that is the only time I make them—since I don't wear earrings myself, I have to be reminded that they're a legitimate piece of jewelry people are interested in.
The green chips are peridot, and they're a really lovely shade of green! They spell out the first three digits of pi, and there are some small round beads acting as spacers in between. They're from a strand of carnelian I bought ages ago (whose other remnants have been used up in other earring projects), but there's no tell-tale orange at all. Essentially quartz.
Pi day and St. Patrick's Day have come and gone, but you can always
pick these little sciart beauties up in the shop
and be ready for next year!
#Sciart has calmed down a bit after the furious Tweetstorm earlier this month, but there is still some good stuff. In particular, you should be following
Bird And Moon, the creative work of Rosemary Mosco
. It's that sweet spot of funny, cute, and informative.
— Bird and Moon (@RosemaryMosco) March 7, 2016
*
Were you bracing yourself for "LCD display"? Baby I'd never play you like that, don't worry.