Pi Day 2016 is upon us! Sure, some people quibble over the March 14th date—it doesn't work in the European date system, or it truncates, or we should celebrate it on
February 27
, or
July 22
—but I believe we should take any and every excuse to celebrate math. So let's have Pi Day on February 27
and
March 14; let's observe Pi Approximation Day on July 22; let's have Tau Day on June 28 (my birthday, natch!!).
I'm celebrating Pi Day 2016 by sharing some great #mathart finds over on Twitter. I didn't realize that #MathArt was a thing until this year's #sciart Tweetstorm, much to my chagrin. Whatever, I know now, and I'll be sharing with you! So tune in—I finally broke down and got HootSuite so now it's time for me to TWEET ALL THE THINGS.
Meanwhile, let's take a look at some adorable/awesome/cool pi day things that turned up on Etsy. Not everything happens on Twitter, after all!
Sweet And Lovely
This adorable shop features art from Kate Gabrielle and amid the pastels and cute, there is something for everyone. Her shop is in my favorites and it should be in yours, too!
Isn't that adorable? Are you dying yet?
Kate has SO MANY great things. You should really browse her shop, but I will probably share more things here soon if you are somehow too lazy to click the link but not too lazy to read my blog. She has loads of other great pi things, though, like a
pi dice game
and a set of
punny pi career pins
.
We The Sciencey
If modern minimalism is more your thing, WeTheSciencey is your shop. It's also your shop if you're a nerdy scrapbooker, because they have an awesome selection of STEM-themed stamps.
Even better: 5% of Etsy purchases at We The Sciencey goes to Surgicorps, which is basically like a surgeon's version of Doctors Without Borders.
If you look at my Pinterest profile (the one I hardly use because I really need to go and unfollow, like, everyone, and also Pinterest stop suggesting things to me, you're garbage and your taste is garbage), you can see that I have aspirations of fantastic amazing nail art.
Unfortunately, I have the tiniest, itty-bitty nail beds in the world. Maybe you've noticed them when I model bracelets? That makes manicures (and especially nail art) pretty tricky.
But oh man, there is a version of me that needs this even though I have no idea how this works. Do you know how this works? Complicated nail tech eludes me, but the end result looks baller.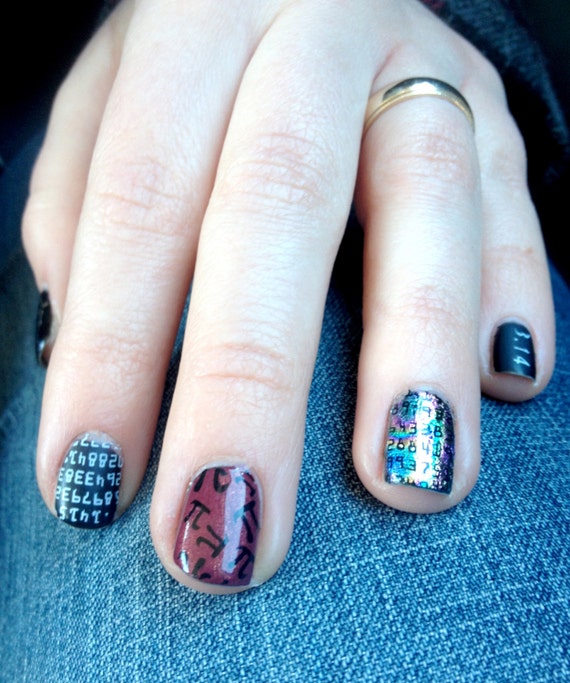 I'm a fan of subtlety. You know, those little details you miss the first time, but then when you look closer, you go, "Ah-hah!" The Scholar's Muse absolutely nails that in a lot of her work. (Other times, it's pretty obvious. ;) ) Design-wise, we are birds of a feather. This is another shop that you will probably want to favorite because it is LOADED with academic scarves, from math to chemistry to literature to biology.
Look carefully: that's not just any gingham!
There is, as always, a plethora of
pi day goodies
in the Kokoba Etsy! The ship has sailed on having your pi jewelry in time for Pi Day 2016, but there's always next year! Or, don't forget—we still have Tau Day 2016 and Pi Approximation Day 2016 to go. ;)
Finally, go wish the former
Miss Sarah Hagan
mazel tov, because she got married this weekend!