As I said on Twitter, I want to call this wrap bracelet "disco physics sciart." The silver-colored cubes are flashy (literally—they're quite reflective) and funky, and spell out the speed of light (in a vacuum) (in m / s). The black Czech glass beads act as muted, understated spacers between each digit. It's a look that's aggressive and futuristic.
This one is actually pretty appropriate for my mood today. I have been jamming out to Rihanna's "Bitch Better Have My Money" over the last few days—in case you couldn't tell by my tweet earlier today:
— Kokoba Jewelry (@kokoba42) April 4, 2016
Maybe I'm just in a Rihanna sort of mood, but I think this bracelet would totally suit her glam eclectic look. Wouldn't it though?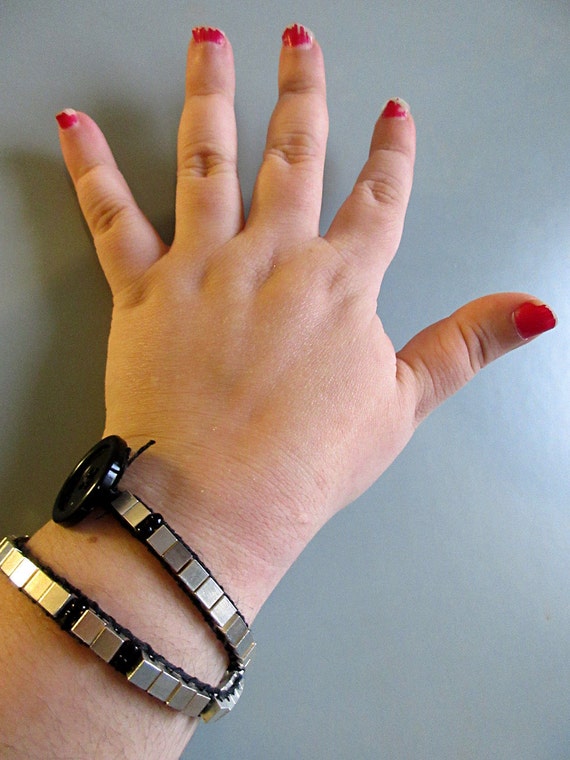 Pay no attention to the manicure in need of a touch-up.
I don't know why I have Rihanna on the brain in this post. I don't really care for more than a handful of her songs. I guess I've just been itching for really angry, aggressive songs about money in the face of CSN arbitrarily and without notice pushing back my study stipend deposits.
"BBHMM" is a pretty good way to scratch that itch. So is Barrett Strong:
I try to take an attitude of mindfulness and gratitude: there's so much that I
do
have and I shouldn't lose sight of that. But I
do not
appreciate my money being jerked around for no good reason that I can find or that they can give. Hopefully it'll be sorted by this week, though.
What are your favorite songs about being broke?