Finally, spring is here! Put away your neutral, muted colors and break out some color! Turquoise and pink is a combination I've been loving for a while now, so I featured it in my latest pi bracelet:
I haven't done any memory wire bracelets in a while, so it was quite fun to string this little guy together. The colors strike me as being very mermaid-ish...or maybe that's just because a mermaid-obssessed acquaintance of mine has just gotten married in Hawaii and it's been beaches and mermaids all up in my news feed for the last couple weeks!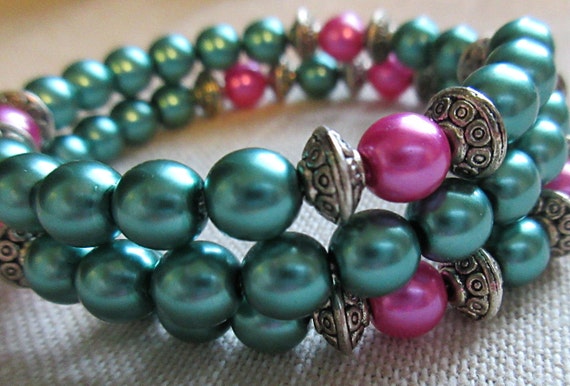 The Czech glass beads in this and other recent bracelets have been a new-to-me discovery in the last few months. The color is a wax coating, but it stands up to abuse quite well. I'm looking to get some larger ones soon so I can start putting out more necklaces again. If you look at the shop, I have a tendency to favor bracelets. They're quick and short, but there are also lots of reasons people avoid wearing bracelets—so the selection for them is a bit skimpier, and that's not fair.
I think I also need to curb my habit of using pi as my default number in a project. I love pi, and pi day, and tau day, but it gets a disproportionate amount of the nerdy accessory love, and that's not fair either.
The SciArt Tweetstorm has been over long enough that someone's been able to do what scientists do best:
crunch and analyze the numbers
! Also, you may have also noticed some errant porn bots thrown in the mix this year.
It's actually kind of a funny story
, and it all has to do with
M. melolontha
.
Or you can get lost in the winners of the
2016 Vizzies
—awards for science and data visualizations run by
Popular Science
.
Happy Monday!