Happy Monday! It's almost over in Stockholm, but my American readers haven't quite finished their workday yet.
This week's Kokoba #sciart is another pi bracelet. Another! I know! I have so many of these, but they're great little stash-busters and I guess in times of experimentation I stick with the familiar—in this case, the digits of pi.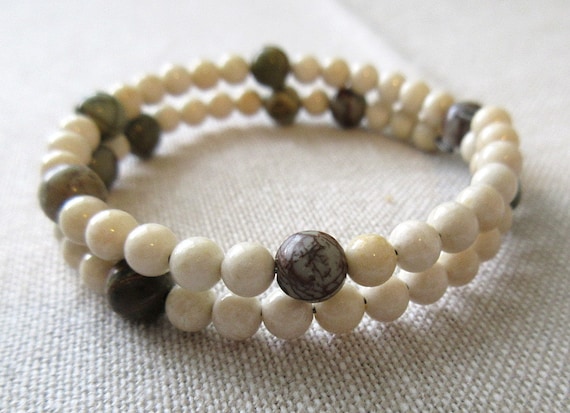 Pi in tan glass and green impression jasper
Even though I've been relisting items over the last few weeks (Christmas!!), I haven't been too inspired when it comes to making
new
items. I have a couple necklaces that I've made, but that's been it.
Between studies and two jobs (and somehow not a lot of money), I'm just exhausted. Fatigued. I'm excited about upcoming NaNo, especially as I won't have any classes during November, but on the other hand I
am
running at least one (possibly two?) events.
This guy was another stash buster I did a while ago. I'm trying to work through all of the beads I have on hand so I can start replacing some old work horses and trying out some new hotness. But that will take some time and thinking, when what I need is fresh inspiration and a kick in the pants. Which is why I've been hanging out on the
#sciart hashtag
more than usual today. The highlight this wee: any real artists out there? (I am not a real artist.) There might be residency for you at CERN.
Yeah, that CERN.
I look forward to seeing the work of whomever they pick, and now I'm curious about the work of CERN's current artist-in-residence.
If you're having a bit of the Monday blahs, you can always treat yo' self to some
STEM jewelry from the Kokoba Etsy store
! Or let me make something just for you. ;) Otherwise, you can lose yourself in this week's beautiful collection of sciart.